IOWA CITY, Iowa — How do you assess the play of quarterback Nate Stanley? Iowa coach Kirk Ferentz didn't punt his response so much as try to sidestep it like a quarterback evading a pass rusher in the pocket.
"It's always tough to answer those kind of questions, because our expectations are we're going to watch and see what happens," said Ferentz last Saturday. "You're not quite sure until guys get on the game field."
What happened was Stanley dropped back and saw wide receiver Ihmir Smith-Marsette splitting two defenders on a vertical route. He floated a pass to where only a diving Smith-Marsette could catch it for a touchdown.
But wait.
What also happened was he dropped back and saw wide receiver Matt VandeBerg use a stutter step to get behind the defense. He fired a pass about 7 yards beyond VandeBerg, a likely touchdown turned into an incompletion.
Stanley's first six games as the starting signal caller were a mix of jaw-dropping plays and overthrows which left fans shaking their head. It's likely part of the reason why Ferentz didn't want to give a direct answer on Stanley's progress.
"He's doing an awful lot of good things, and I've felt like that for six weeks now," Ferentz said. "There's some things that we have to get ironed out, but he's really worked hard."
The real question is which play says more about Stanley, his performance and where his season can go. Is it the touchdown toss or the overthrow?
Breaking down his decision making
Stanley's stats look good.
| | | | | |
| --- | --- | --- | --- | --- |
| Comp. % | Yds | TD | Int | Passer Efficiency |
| 57.7 | 1,290 | 15 | 2 | 149.3 |
His passer efficiency rating is fifth in the Big Ten, and No. 34 nationally. He is second in the league in touchdowns and in fewest interceptions among starting quarterbacks.
Land of 10 reviewed every Stanley pass in the first six games. Stanley's decision making stands out more than anything else. He tends to throw to his open receiver downfield and if nothing develops he finds a checkdown route.
His interception against Illinois last week, forcing a pass into triple coverage, is the exception.
More often, the result is finding an open receiver, like on this delayed slant to wide receiver Nick Easley against the Fighting Illini.
"He's a guy that's got us in and out of the right plays," offensive coordinator Brian Ferentz said, "and he's been extremely efficient throwing the ball."
Decision making is one of the biggest issues that can trip up a new starting quarterback. Stanley is excelling here. It's part of the reason his interception total is so low. He doesn't hurt the Hawkeyes when he throws the ball and gives his receivers a chance to make a play. Every team in the Big Ten will take that from a new starter.
Audibles and what Iowa asks Nate Stanley to do
Stanley isn't tasked with the same responsibilities as C.J. Beathard was last year. It's not fair to ask a sophomore do the same things as a multi-year starter. Stanley's playbook is condensed.
"You can't play with handcuffs on totally," Kirk Ferentz said, "but we're probably not asking him to do as much as we will later in the season or certainly next year moving down the road, that type of thing."
But it doesn't mean he isn't tasked with making vital decisions. Stanley is faced with making the correct calls on Iowa's audibles/run-pass options. Land of 10 went deep on the subject here, but basically it's on Stanley to take advantage of the defensive play callby calling the run or pass option that fares best against that specific alignment.
For example, only one defensive back lining up on two wide receivers makes the pass to Easley the better option on this touchdown so Stanley fires it his way.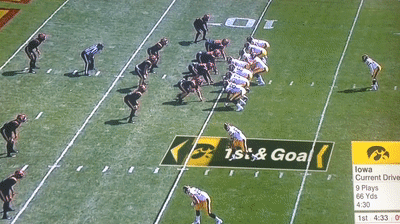 Just like with decision making, Stanley tends to make the right read in these situations. It's a little thing, but it's a big benefit for the offense. It helps Iowa get into second or third and manageable situations and is something Iowa uses near the goal line to help get into the end zone, like on the Easley play above.
Playmaking
Iowa isn't asking Stanley to carry the offense. The passing game is a complementary part capable of making big plays.
Most of his throws are short passes. Partially, this is by design. Iowa is calling a lot of crossing routes, quick outs or drags.
Partially, it's because he's willing to throw to a tight end or running back when nothing quickly opens down field.
Here is his passing breakdown:
0-10 yards beyond the line of scrimmage
| | | | | | |
| --- | --- | --- | --- | --- | --- |
| Completion | Att. | % | Yds | TD | Int |
| 72 | 114 | 63.1 | 734 | 7 | 1 |
10-20 yards beyond the line of scrimmage
| | | | | | |
| --- | --- | --- | --- | --- | --- |
| Completion | Att. | % | Yds | TD | Int |
| 16 | 26 | 61.5 | 302 | 4 | 0 |
20-plus yards beyond the line of scrimmage
| | | | | | |
| --- | --- | --- | --- | --- | --- |
| Completion | Att. | % | Yds | TD | Int |
| 9 | 28 | 32.1 | 254 | 4 | 1 |
More on the deep passes in a bit, but he is making plays and finding the end zone all over the field. It's a positive sign.
Now, 67.8 percent of his passes consist of the short throws. He's not afraid to get the ball to his playmakers and let them do their thing. This is a good trait for a quarterback. It allows the 15-yard touchdown pass to Noah Fant against North Texas to develop.
When Stanley needs to make a play he isn't afraid to do so. When he sees a receiver open he'll throw it his way and on intermediate passes he thrives. He is completing 61.5 percent of his passes 10-20 yards beyond the line of scrimmage. The number sat at north of 70 percent before going 3 of 8 against Illinois last week.
The number is high because Stanley is selective, but it indicates the Hawkeyes may want to find ways to incorporate more intermediate passes into the game plan.
Playmaking, part II
One of the biggest questions facing Stanley entering the season is how he would respond when forced to make plays in a situation where Iowa needed to get back into the game or required a fourth quarter comeback.
He put those concerns to rest against Iowa State when he helped Iowa overcome a 10-point fourth quarter deficit in the overtime win. He is also playing his best football in the fourth quarter and overtime of football games.
| | | | | | | |
| --- | --- | --- | --- | --- | --- | --- |
| Completion | Att. | % | Yds | TD | Int | Passer Efficiency |
| 24 | 39 | 61.5 | 399 | 5 | 0 | 189.8 |
The sample size is too small to say if Stanley is "clutch," but his fourth quarter success bodes well for the Hawkeyes the rest of this season.
The overthrows
Fifteen times Stanley has overthrown a wide receiver, like the VandeBerg play mentioned at the start of the story.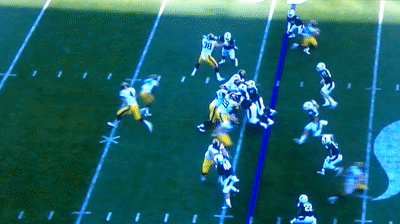 Two of the overthrows resulted in penalties on defensive backs so let's throw those out because it led to a positive outcome. The other 13 come on a cross-section of routes, though mostly on vertical plays.
Brian Ferentz said Iowa wants to take a designed deep shot a quarter. Completing 2 a game is great. One qualifies as doing "pretty well," according to the offensive coordinator.
He estimates the Hawkeyes are going deep a little more often than their minimum expectations with somewhere between 5 or 6 per game.
Iowa is taking more shots down field than in Brian Ferentz's example. The Hawkeyes are averaging 1.5 completions on passes 20 yards or more beyond the line of scrimmage. If Iowa is taking 6 deep shots a game it is hitting the 25 percent downfield "pretty well" threshold.
Obviously, Stanley's 32.1 percent completion rate on his downfield tosses is too low. Iowa wants Stanley to connect with his downfield receivers more often, but doesn't seem as obsessed with the overthrows as the fan base.
"What that just comes down to is, again, it's the word that nobody wants to hear, but it's execution" Brian Ferentz said, "and I think that falls on us as coaches, starting with me. I've got to do a better job in practice making sure we get those things repped, making sure we get them hit, giving those guys opportunities to make those plays so that when we get to the game field on Saturday, we feel like we're ready to do that, and we can reasonably expect to be successful doing it."
Will the real Nate Stanley please stand up
Yes, the overthrows are a problem and easily stand out to everyone watching the game. But a pass like the Smith-Marsette touchdown combines the decision making and playmaking ability every team wants from the position. Those are things to build on.
There is area for improvement and ball security is near the top of the list because of his 3 fumbles. But the fumbles and deep passes should be correctable things.
The foundation for Stanley to become a good Big Ten quarterback is in place, especially when given time to throw.
Iowa QB Nate Stanley was dangerous when kept clean from pressure, tossing 3 touchdowns and 222 yards when not under duress. pic.twitter.com/g4zHwtWEoG

— PFF College Football (@PFF_College) October 7, 2017
Stanley is exceeding expectations. Kirk Ferentz didn't come out and say it, but Brian Ferentz did..
"He's a young guy who's done well," the offensive coordinator said, "but I think he has a chance to be a really good football player here, and I think that puts him in a club with a lot of other young guys we have, but are we going to go do that, or are we going to be satisfied with being 4-2 and being average? That's the question."
The final six games will provide the answer.
The post Iowa hoping QB Nate Stanley continues to progress appeared first on Land of 10.
Thank you for reading the Springfield News-Sun and for supporting local journalism. Subscribers: log in for access to your daily ePaper and premium newsletters.
Thank you for supporting in-depth local journalism with your subscription to the Springfield News-Sun. Get more news when you want it with email newsletters just for subscribers. Sign up here.